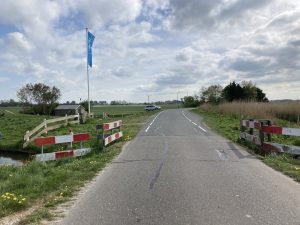 It's not the update I wanted to write but on Kingsday (27 April) I crashed on my triathlon bike. I was easily cruising and getting close to home when suddenly a chicken crossed the road, came in my rear wheel, and I crashed and fell on my right side and had enormous pain in my shoulder. After being picked up I went to the weekend GP station, redirected to the emergency department of the hospital, X-rays were made, and the surgeon told me that my collarbone was broken.
Since it was broken in a complicated way (not nicely in the middle but on the end of the bone) the surgeon told me that I had to have surgery. He also told me that I could forget about any triathlon races this year…
How to get a triathlete silent… Tell him his season is over before it was even started… Devastated and I can't remember what the surgeon said afterward anymore (luckily my dad was with me).
The next few days were very painful although I had painkillers and then the pain released slowly. The days were long and boring. I couldn't train, couldn't continue on my garage building project and I couldn't go to work…
Luckily after 1.5 weeks, the surgery was happening, and then a lot more pain for many days. I couldn't sleep and I couldn't sit in a chair due to the painful pressure on my shoulder blades. Slowly the pain released as well, less heavy painkillers, less easy painkillers, until no painkillers. The accident is well over a month ago, 4 weeks after surgery and I'm slowly getting some mobility in my right shoulder/arm back again. I can barely lift my stretched arm horizontally but I have a good physio that's helping me revalidate as quickly as possible.
My triathlon bike and clothes are damaged. I really liked my Cervelo P3 but it had a hard hit and it's being inspected at the moment by a specialist bike shop. This could result in a few thousand euros damage to replace and repair parts.
My clothes were shredded and need to be replaced as well of course. Of course, these material damages are replaceable and the main focus is getting healthy and slowly start training and building up some muscle again.
For a few weeks, I'm back on my indoor bike trainer. In the beginning, the posture was painful and tough but it's getting better. About every other day I'm riding for 1-2 hours. All pretty easy rides without much intensity. Just keeping those legs moving a bit. Mentally it's pretty tough to see so many people training and even competing in the first races of the season. My plans for this triathlon season were the Ironman 70.3s in Zell am See and Berlin, and then in October my first full Ironman race in Cascais Portugal. I was getting into good shape and was hoping for really good results in the 70.3s and of course successful completion of the full distance Ironman in Cascais… Not this year.
I hope my next update will be more positive. Maybe even with a surprise late-season triathlon?!? I know, I shouldn't expect this but it's keeping me with a bit positive mindset 🙂