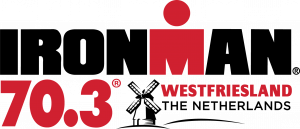 I see the Ironman 70.3 Westfriesland as a "local" triathlon race. The start and finish are in the town Hoorn, which is less than 45 minutes drive from my home. Two years ago I competed in the Ironman 5150 (Olympic distance), which was the first Ironman in the Netherlands after the cancellation of the full distance Ironman race in Maastricht (in the far southeast of the Netherlands) in 2018, and I finished 7th in my age group. Now in 2021, after being postponed from 2020, I felt that I was stronger, fitter, and faster, and I was aiming for a top 10 finish in my age group for the middle distance triathlon race…
End of August I competed in the Challenge The Championship triathlon race in Slowakia, so there were exactly 4 weeks between the two triathlons. Not a lot of time to really train hard, not short enough to continue tapering. After discussing and analyzing The Championship race with my coach Ruud of Duur Triathlon, we continued with the endurance approach and I didn't train too hard besides some interval training once in a while. Especially considering the fact that since the Challenge triathlon in Walchsee, Austria, at the end of June I was experiencing minor injury issues with my left knee and this never healed due to the constant triathlon races every few weeks, I needed to save my knee for a little longer. After the IM 70.3 West-Friesland, I would be able to fully recover over a longer period of time.
Preparations
In August in Austria and after coming back from Slowakia, I continued with swim training in the 50m pools to focus on technique, and at least once a week in a large lake nearby my home for some long endurance open water swimming distance. It was going well and felt promising for my last race of the season!
The bike training was mainly longer endurance rides and some shorter interval rides. My average endurance speed was pretty good without much effort and my intervals were strong and fast 🙂 I had to be a bit careful with my knee, but besides that my leg muscles were good. The last week I swapped to the disc rear wheel and was spinning nicely and with good speed.
In the weeks before the race, I felt strong and fit. I had tried out a new pair of race running shoes: the carbon plate shoes of Nike, the Nike Air Zoom Alphafly Next%, and I decided to use them in the upcoming race.
I had run on the carbon plate shoes of Saucony, the Saucony Endorphin Pro 2, and with the Nike's I was able to run faster with a slightly lower heart rate. For my normal run training, I'm running on Saucony Guide shoes since they are more stable but for the races, I feel the speed difference with the carbon plate shoes. My run training went actually pretty good lately and I was confident for a good result!
Race Weekend
On Friday I drove to Hoorn to register myself and to pick up all the necessities for the race. In all quietness, I was able to check out the layout of the transition area, with the swim and bike entrance, and bike and run exit. I also checked the swim entrance and swim exit from the water and everything was clear to me.
I thought about doing a quick swim training in the Markermeer but the wind was blowing quite a bit and the waves were a bit too choppy for an easy entry and exit over the rocks. The harbor was a no-swimming zone so I decided to conduct my swim training in my local lake back home.
On Saturday after a short run to stretch my legs, I drove in the late afternoon to Hoorn again to check in my bike. Everything went smooth and within no time I was back in my car driving home. I enjoyed my standard pre-race dinner of white rice and sauce before heading to bed. Unfortunately, some backyard neighbors decided to have a party which was creating noise until 2 am so my sleep wasn't the best.
Sunday morning at 04:45 hrs my alarm went off and a few minutes later I was having my breakfast which I always have: quark with blueberries and oatmeal. Watching some youtube videos until it was time to drive to Hoorn, where I arrived at 07:00 hrs.
The transition area opened at 07:00 hrs so I could complete all my preparations on my bike and in the blue and red transition bags immediately. After that, a quick look at the water to see the sea state outside the harbor breakers being pretty choppy! Well, at least I was happy that it was dry and not too cold. In the early morning, the temperature was around 16 degrees and would warm up to around 24 degrees in the early afternoon. The water temperature was 17.8 degrees so wetsuit legal although I wasn't expecting anything else in this time of the year. The wind wasn't ideal coming from the south-southeast force 2-3 which would mean the last 20km of the bike ride against the wind on the dike, but you can't influence the weather!
At 08:30 hrs it was time to prepare me, get into my HUUB Varman wetsuit, and start concentrating on the race. The race was a traditional Ironman rolling start with the exception that the Ironman All World Athletes were able to start before anybody else (but also by rolling start). I've never seen this AWA exception before and it's a bit strange that you're overtaken by swimmers of the group of faster than 25 minutes within a few minutes. Not ideal for you or them.
Swim
At 08:50 hrs we were asked to enter the start area and at 09:00 hrs the Ironman 70.3 West-Friesland was started! One minute later I was in the water and after two left-turn buoys, it was a long straight route all the way to the 180 degrees turn buoy. During the first section inside the harbor, you could feel the swell from the Markermeer already a little bit but once outside the harbor breakers, the waves were actually pretty high! Nothing extreme but so high that I sometimes struggled to sight the buoys, waves were coming over me (not breaking though), and that I had the feeling that I hardly moved forward.
Finally, it felt really after a long time, I reached the red 180 degrees turn-around buoy, and then we had the swell from the back pushing us in the right direction. This felt a lot better and I started to get into my rhythm.
I thought this would be a terrible swim time and I was overly surprised after coming out of the water to see my Garmin Fenix watch showing 33 minutes and 14 seconds! That's not terrible at all for me! That's actually pretty good! Immediately feeling a lot better while running to the transition area.
Quickly getting out of my wetsuit, taking my helmet and start number out of the bag, and putting the wetsuit in the blue bag. While running to my bike I put my start number belt and helmet on. No time to lose!
Grabbing my bike and running the last meters to the bike exit and mount line. A smooth flying mount and off I was for the 90 km on the bike through the 7 town counties of West-Friesland.
Bike
To my surprise, it was raining for the first half an hour or so (which wasn't on the weather forecast at all) and the roads between the fields were sometimes a bit muddy and slippery because of the farmers. The first section was through Hoorn and to the northwest past Wognum to the west of Opmeer. This first section was going through the fields, over some bridges, passing a windmill, and riding along canals but this section was also with quite some turns and shorter straight sections until the route changed to the northeast to Medemblik. Long straight roads until we reached Medemblik where we had to go through the center over cobblestones roads and past the castle Radboud. I was expecting a FinisherPix photo of that sightseeing location (and actually also when we cycled past a windmill) but unfortunately not. That would have been a great selling photo to international athletes since it would be typical Dutch and Westfriesland!
From Medemblik it went to the southeast to Enkhuizen mainly through the fields, some towns, and a part alongside the dike of the large Dutch inner lake, the IJsselmeer. For the first 60 km, I averaged a speed of 38 km/h (Ironman tracker app showed an incorrect average speed of over 41 km/h) but unfortunately, I was struggling to take enough Nutrid Kerosine energy drink and to keep it inside. My stomach was feeling like it was doing a rollercoaster and I felt that my energy was slowly draining out of my body. I tried hard to drink but I wasn't feeling like it and I couldn't keep it inside… After Enkhuizen, we continued the last 20 km of the bike route on top of the dike of the Markermeer, and with a south-southeasterly wind and wind force 2-3, it was getting pretty tough and my upper leg muscles were starting to hurt.
I kept pushing as much as possible and to make it worse I saw a few people overtaking me. Not that many luckily but annoyingly enough also one group of stayers. Maybe a group of about 6-8 that was riding directly behind each other. Especially on the dike against the wind, this would be such an energy-saver. Of course, it's against the rules… A bit later a jury motorbike passed me… For me, it was a pretty lonely ride. In the beginning, I was overtaking a few slower riders and was being overtaken by a few faster riders but that's the problem of starting in the first swim group, you don't have that many cyclists to focus on and to ride towards.
Finally coming closer to Hoorn the last few kilometers on the dike were again with the wind mainly from behind and then the last kilometer to the transition area. Just before the transition area was the penalty tent and there I saw the group of stayers facing their penalty. At least I think it was them because I wouldn't know which other group of 6-8 in front of me would get a penalty on the bike.
My average speed of the last 30 km was 35 km/h (again an incorrect Ironman tracker average speed of 30 km/h) and for the total bike ride, I took 2 hours 27 minutes, and 06 seconds with an average of 36.8 km/h. I think that especially the last 30 km could have been a bit faster if I would have enough energy, no pain, and therefore more power in my legs.
The transition took a bit longer because I had to stop for a quick toilet break but besides that the transition to running was smooth. This was the first triathlon race that I put on my socks but I felt that these Nike's wouldn't be ideal for barefoot running. This only took a couple of extra seconds and would keep my feet a lot happier during the run!
Run
During the first few hundred meters of the run, I felt immediately it wasn't great. Normally the first kilometer I'm running too fast but this time it was costing so much energy to run 4:15/1km… Pretty soon my speed dropped further and my legs felt heavy and painful. I couldn't really drink from my Nutrid Kerosine RS+ energy drink from the flexible bottle. I hardly could drink any water from the aid stations… At the end of the first lap, I had to dive into a Dixy toilet for a number 2…
My stomach wasn't really feeling any better afterward but at least nothing was inside anymore. I thought about quitting so many times during this half marathon but I managed to continue until the end. In lap 3 and lap 4 I had to vomit to make everything even worse. A friendly spectator asked me after the first time if I was alright and if I wanted some water or a cheese sandwich. I friendly declined 😉 The spectators were actually in large numbers and great supporting all the athletes. There were some quieter sections along the course but the majority of the run course was full of people all cheering. I think that was the most enjoyable part of my run 🙂
But my run was terrible and my lap times were about the following: lap 1 under 5m/1km, lap 2 well above 5m/1km, lap 3 about 6m/1km, and lap 4 about 7m/1km… After the second time that I vomited, it was only about 1 km until the finish which I tried to squeeze out all my leftover energy for an "end sprint" with an astonishing speed of 5m/1km… Such a dramatic finish of the race and I felt terrible. The run took me 2 hours 2 minutes and 14 seconds. I've never ever run a half marathon so slow…
Finish
The total Ironman 70.3 Westfriesland took me 5 hours 10 minutes and 23 seconds… This ranked me as 23rd in my age group of 104 finished athletes.
Conclusion
Time
Average
Rank AG
Rank Overall
Swim
33m14s
1:45/100m
11
123
T1
3m22s
Bike
2h27m06s
36.8 kmh
12
112
T2
4m29s
Run
2h02m14s
5:50/1km
66
523
Finish
5h10m23s
23 (104)
231 (862)
Not the racecourse that I was expecting to happen! Such a disappointment but at least I did complete the race!
I felt terrible not only for myself after training so hard, feeling strong and fit and motivated, but also terrible that I let down my family and others that were supporting me alongside the run course… My family told me after the race that they saw I was struggling during the run and that something was wrong, but they were happy for me that I continued and was able to finish the race.
The positive thoughts from this race are certainly my good swim time in these conditions and also the first 2/3 of the bike ride. After that, it wasn't that positive anymore, except for the fact that I kept on going and finished in the end.
Anyway, mentally this race was a bit hit but a hit that I will overcome. I'm just wondering what the reason for the stomach problem was, why I couldn't take in and hold in any energy drink, and why my upper leg muscles were hurting so much. What can I change to avoid having this issue again? That will be my question to find an answer for in the next days or weeks.
And was the expectation for a top 10 finish realistic? Yes, I think so! If (yes if) I wouldn't have the stomach issues and would have my normal power, I would have been able to run about 30 minutes faster, and probably I would have biked a few minutes faster as well. Considering that, I would have finished in about 4h40m which would have resulted in rank 6! No trophy, not even the podium but a very good position considering the top athletes and former pro athletes that were competing in this race. Just for the record the number 1 in my age group finished in 4h23m, number 2 and 3 in 4h35m, number 4 in 4h38, and number 5 in 4h39m… My possible finish time would have been awfully close to rank 4 which sounds so much more satisfying than rank 23… Anyway, it is what it is and I can't change it! Fun fact: I swam faster than the number 1 and 2 in my age group 🙂
My triathlon season is over and it's time to heal my body and mind. Easy training to actively heal my knee and to feel happy again. Sporting makes me (normally) feel happy and I need to get that feeling back again. That will come, and I will come back stronger, faster, and even more motivated for next season.
What's Next?
So what's my plan for next season? That's a good question! I still have the continuously postponed race of Ironman 70.3 Subic Bay in the Philippines, now planned for the beginning of March 2022, but that date isn't really convenient. I might be able to change that for another race in Asia or I have to forget about it.
Besides that, the full distance Ironman is creeping into my head the last few months… Actually, back in 2019, my plan was to do a full Ironman in 2021 but then the pandemic interrupted everything and changed all my plans the last two years… Maybe 2022 is the year for a full distance Ironman or maybe just a couple of middle distance triathlons. Maybe trying to qualify for another triathlon World Championship of the Challenge organization or maybe even the Ironman organization… Who knows? Once my plans for 2022 have been finalized, I'll let you know 😉